Ride the brightest with a Lumos Helmet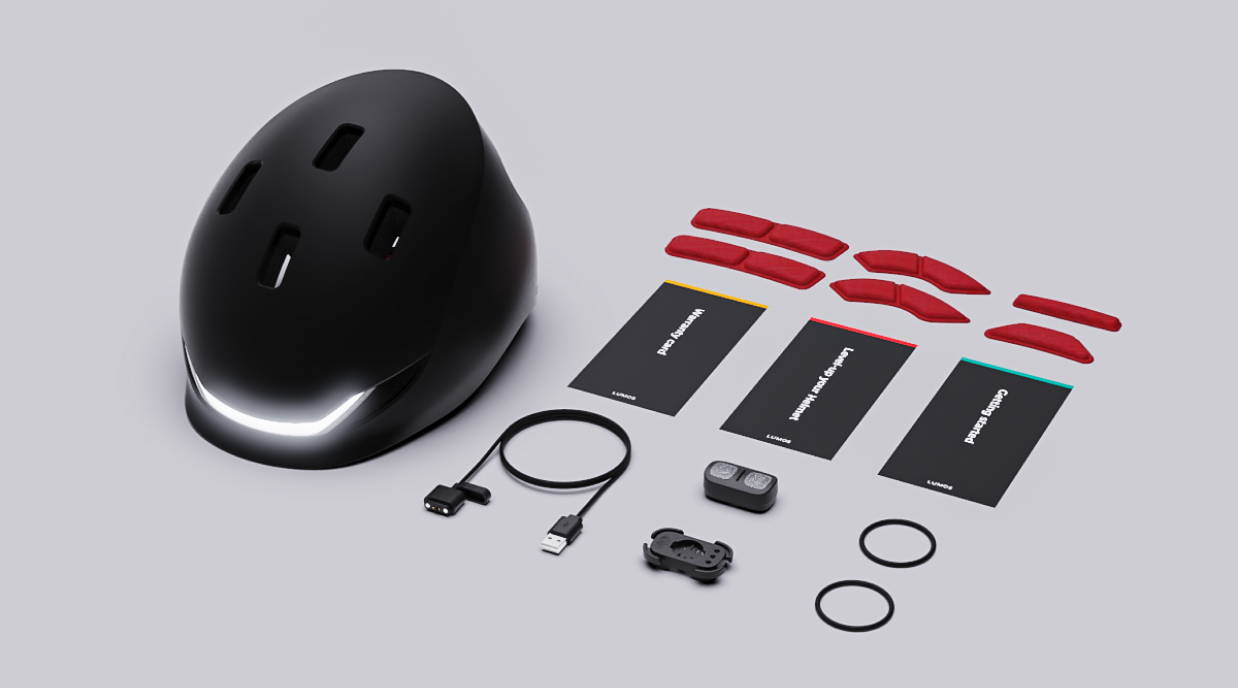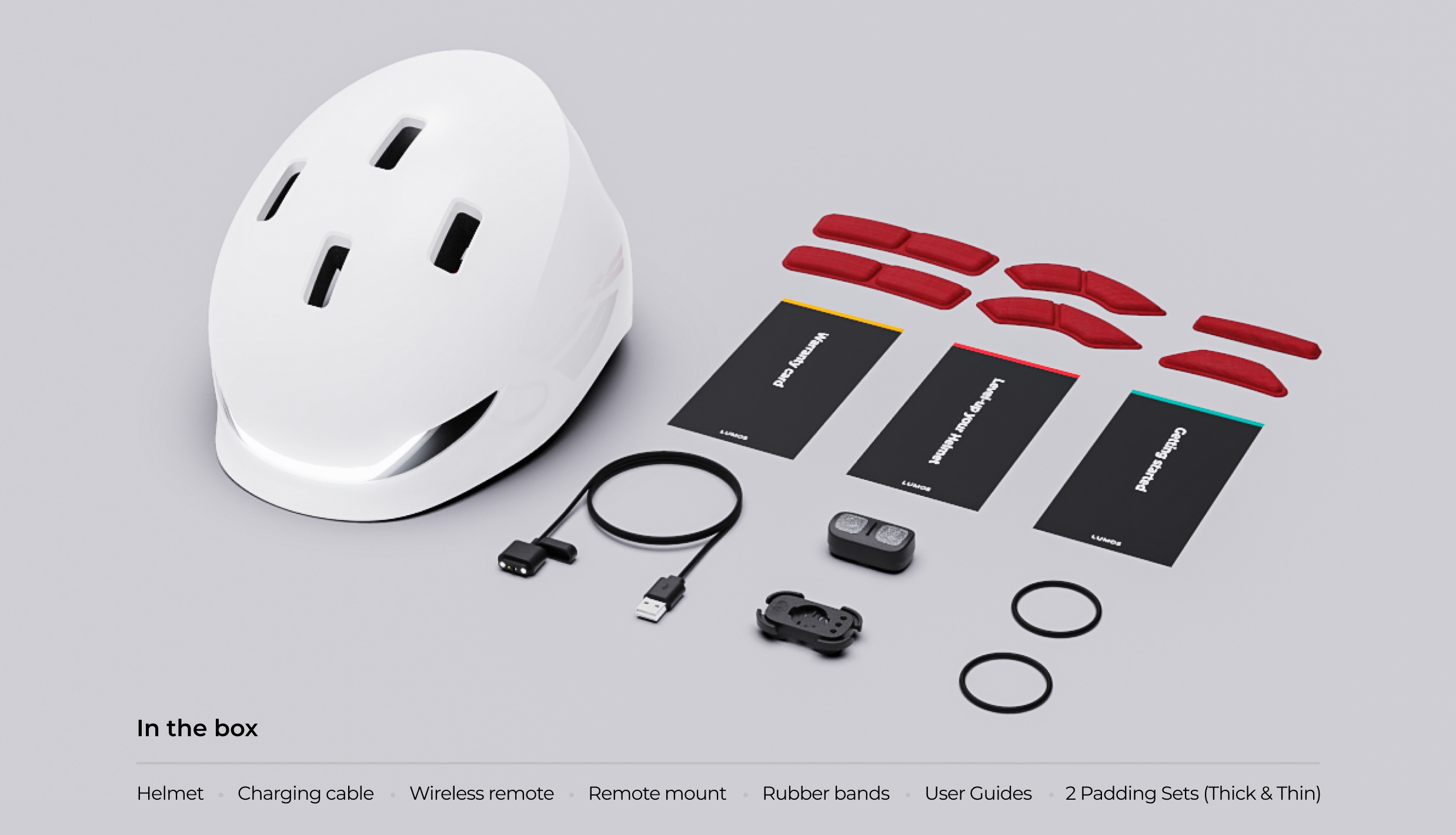 22.0 inch - 24.0 inch/ 56 cm - 61 cm
22.0 inch - 23.6 inch/ 56 cm - 60 cm (MIPS)

---
5.9in./15cm
10.6in./27cm
9.1in./23cm

---
22 front white
77 back rgb
Up to 1000 lumens of illumination
Automatic brake lights
Turn signal capable

---
3.7V 1800mAh Lithium Polymer rechargeable battery
5 hours charging time
4-10 hours run time dependent on setting

---
Apple Watch, Apple Health, Strava compatible
---
7.3in./18.6cm
10.8in./27.3cm
8.5in./17cm

Front: 22 white
Back: 77 rgb
Up to 1000 lumens of illumination
Automatic brake lights
Turn signal capable

3.7V 1800mAh Lithium Polymer rechargeable battery
5 hours charging time
4-10 hours run time dependent on settings
Apple Watch, Apple Health, Strava compatible
---
CPSC, EN1078, AS2063, ASTM F1492, ASTM 3746





First helmet ever sold at Apple Stores
Does Lumos helmet fit your head size? Check your size below
01 Look for a measuring tool
Use a soft tape. If you don't have one available, use a rope or even your charging cable on hand.
02 Measure your head

Place it around your head, positioned mid-forehead and just above the ears and measure it in inch or cm.
03 Find your size

Use the chart beside to check your size, our helmet fits most head sizes with the adjustable dial fit system.

22.0 inch - 24.0 inch/ 56 cm - 61 cm
Heads come in all shapes and sizes. Lumos Matrix has a headform that's more oval in shape. If your head measurement is 60-61cm, Matrix helmet would fit better into oval shape headform.
We strongly advise all our customers to check your head size prior purchasing to ensure our helmet fit perfectly on to your head.
Frequently Asked Questions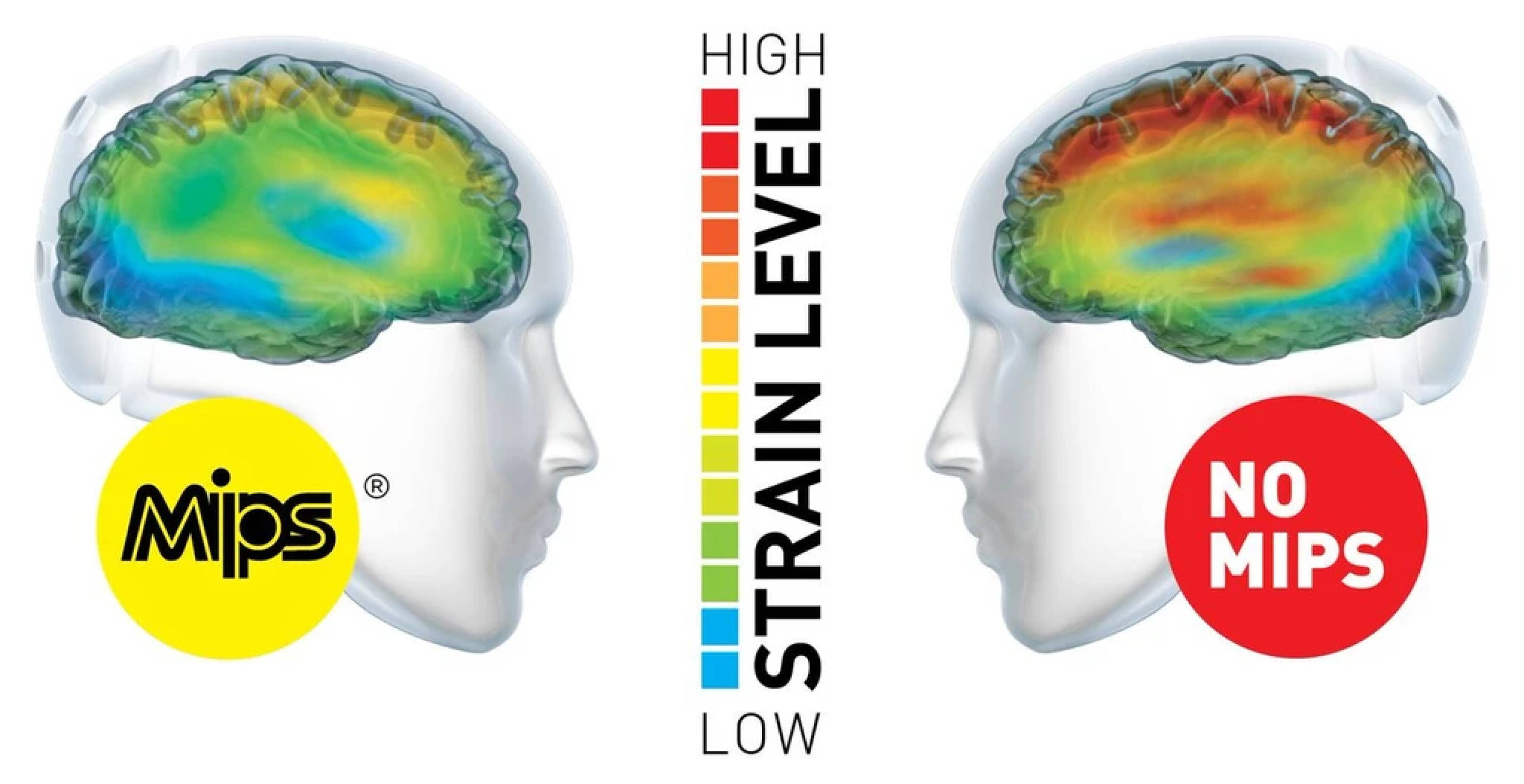 How much do I pay for shipping?

For the contiguous US, UK and some EU countries shipping your helmet is FREE! For other locations as well as accessories, shipping is calculated based on your location and product upon checkout.

When can I expect my helmet?

Generally we ask to allow 4 to 10 business days for your order to be delivered. It may take longer during peak seasons.
Once your order has been handed over to the carrier for delivery, you will receive a shipment notification email with tracking details. This enables you to track the progress of your order and get an estimated delivery date.


If you want to return or exchange anything you bought from us, NO PROBLEM! You have 30 days from the date of shipping to make sure what you ordered from Lumos is right for you.
Just note that any product you return needs to be in new condition and you'll have to cover return shipping costs.


Quality is very important for us at Lumos. Therefore we guarantee that an Ultra helmet purchased from us is in good condition and continues to work as expected under normal use, within the first year of your purchase. You can read more on our warranty information here.
Customer Reviews
09/29/2020
luis c.
United States
09/06/2020
Lorenzo H.
United States
Beyond Amazing!
I freaking love my helmet!!! Everyone who has seen it just loves it. I'm the only one in my community who has one and it definitely has turned heads…but thats the whole point right? I'm seen which increases my safety and I'm glad for that. My only issue is I have a HUGE freaking head… and even though its one size fits all, I would definitely benefit if there was one that was offered in a bigger size. Thanks for designing such a cool helmet!
Awesome to hear Lorenzo! Matrix comes with two different padding sets, which might help you getting a better fit. You can read more about it here: www.lumoshelmet.co/fit-guide. We are also working on larger sizes and our newest helmet Ultra will be available in size XL.
09/04/2020
Peter M.
United States
Great Helmet
Been working great so far. I love the configurable lights, the fact it displays the charge amount in a number on the back of the helmet, battery life is great. Even survived a morning commute in the rain. Time will tell.
Thanks for leaving a review, Peter! Just a tip: your Matrix helmet is weatherproof, but we suggest you give your helmet a quick wipe when you are done with a ride in the rain. Ride safe!
07/28/2020
Matt H.
United States
Love most of the helmet, but could use help with the tensioner which failed on first use
Price and speed of shipment was super great! Love the overall concept, and enjoy the personal touches of many aspects of the "Matrix". Packing is very "apple'esque", with much care clearly taken along the way. Nice accessory kit, easy to use, and very impressed with the visibility now being lit up on the trail for evening rides. The turn signal indicator unit seemed to not charge via paired with the helmet, and even charging stand alone, seemed to take longer than most might expect. Overall pretty pleased, however need help with the tensioner piece in the back of the helmet, since turning to tighten only once, the unit failed. Seems the inner "teeth" of the tensioner have come off the track, to which I've since emailed for help. Not sure how fast I'll get response, as the site says the system is down. Either way, great helmet and seems made very well. I've already got interested friends now interested in the same :)
Good to hear you love your Matrix helmet, Matt! We have received your email and are happy to assist you with the retention system. We generally aim to respond within 48 business hours.
07/21/2020
John D.
United States
Great helmet!
I love being more visible to cars, and I love the ability to share my own "bumper sticker messages" with everyone via scrolling text. It's great at first there are so many ways to set up the helmet and accessories, but it becomes a real grind after a short while. I've never been able to get the Apple Watch integration to work for me; that's too bad.
Thank you for your review, John! It's great to hear you love to use the different animations on your Matrix helmet. We'll send you a message and see if we can help you setting up the gesture recognition feature.