Ride the brightest with a Lumos Helmet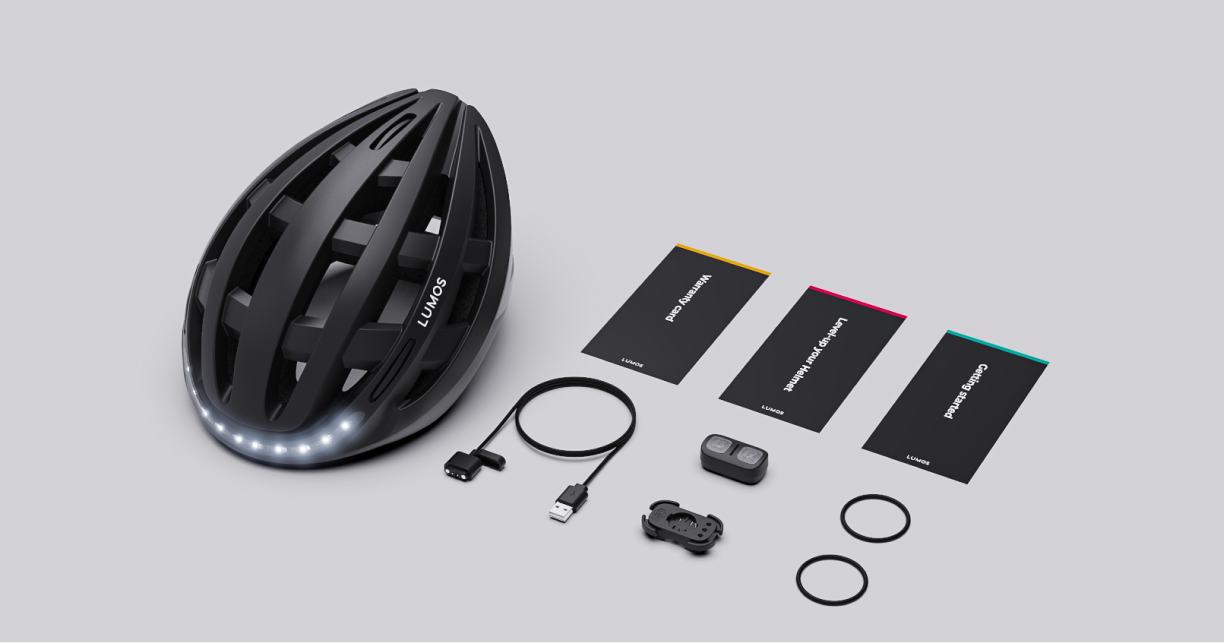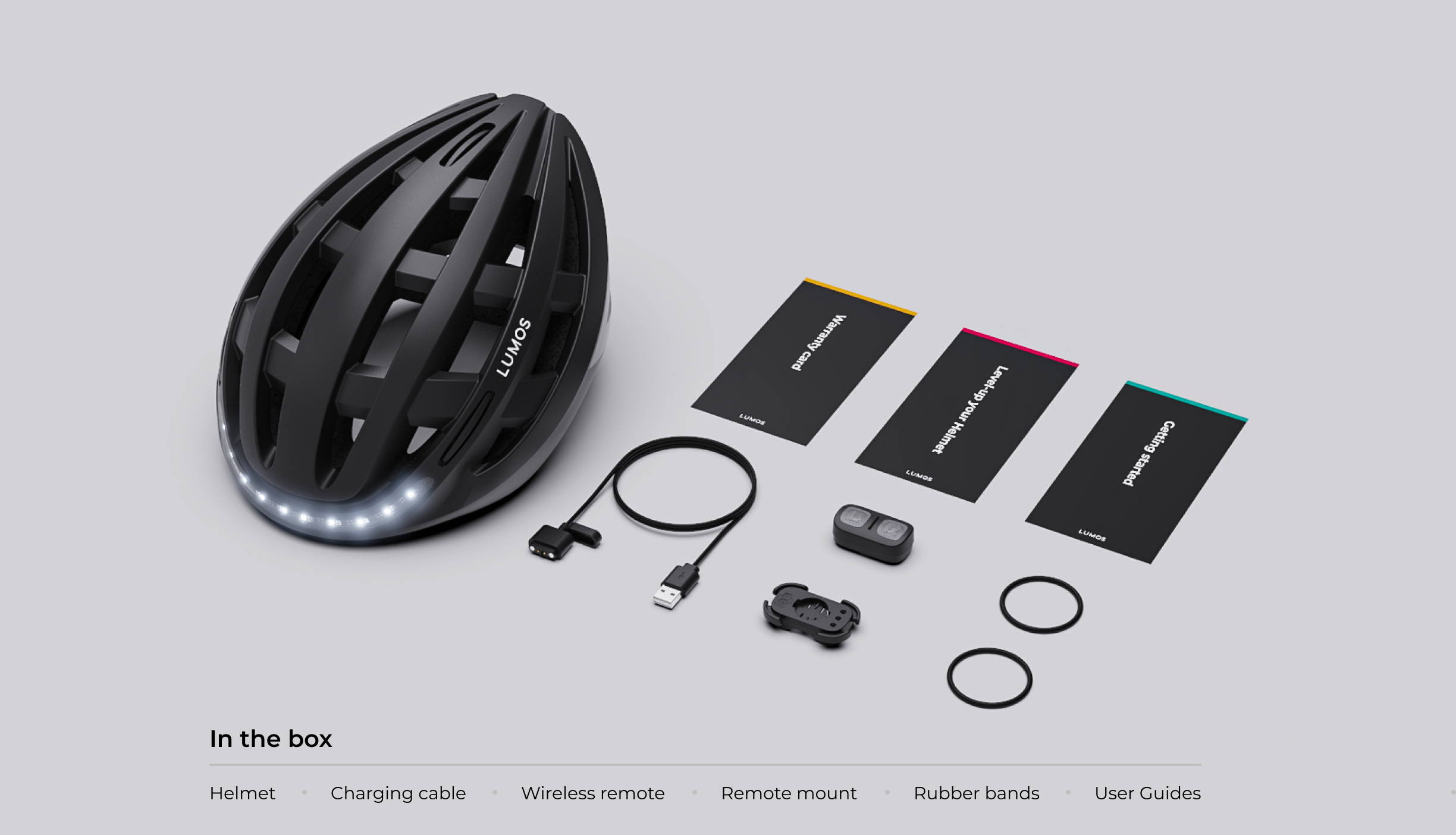 21.3 inch - 24.0 inch/ 54 cm - 61 cm
21.3 inch - 23.6 inch/ 54 cm - 60 cm (MIPS)

---
5.9in./15cm
10.6in./27cm
9.1in./23cm

---
10 front white
38 back red
22 turn signal
Up to 500 lumens of illumination
Automatic brake lights
Turn signal capable

---
3.7V 800mAh Lithium Polymer rechargeable battery
2 hour charging time
18 hours extended flashing mode
6 hours flashing mode
3 hours solid mode

---
Apple Watch, Apple Health, Strava compatible
---
5.9in./15cm
10.6in./27cm
9.1in./23cm

Front: 10 white
Back: 38 red
Turn signals: 22 orange
Up to 500 lumens of illumination
Automatic brake lights
Turn signal capable

3.7V 800mAh Lithium Polymer rechargeable battery
2 hour charging time
18 hours extended flashing mode
6 hours flashing mode
3 hours solid mode

Apple Watch, Apple Health, Strava compatible
---
CPSC, EN1078, AS2063, F1447, NTA 8776





First helmet ever sold at Apple Stores
Does Lumos helmet fit your head size? Check your size below
01 Look for a measuring tool
Use a soft tape. If you don't have one available, use a rope or even your charging cable on hand.
02 Measure your head

Place it around your head, positioned mid-forehead and just above the ears and measure it in inch or cm.
03 Find your size

Use the chart beside to check your size, our helmet fits most head sizes with the adjustable dial fit system.

21.3 inch - 24.0 inch/ 54 cm - 61 cm
Heads come in all shapes and sizes. The Lumos Kickstart has a headform that's more oval in shape. If your head measurement is 60-61cm, Kickstart helmet would fit better into oval shape headform.
We strongly advise all our customers to check your head size prior purchasing to ensure our helmet fit perfectly on to your head.
Frequently Asked Questions
What are the differences between the Kickstart and Kickstart Lite helmets?

Kickstart Lite, as the name says, is our light version which offers you great visibility at a great price.

The Kickstart model adds turn signals (operated via the wireless remote, included in the box) and automatic warning lights.

Kickstart MIPS combines all that with MIPS (Multi-directional Impact Protection System) which protects you from certain angled falls.

Rest assured: All our helmets - including the non-MIPS models - are crash-tested and safety-certified to the highest standards: CPSC (US) and EN1078 (Europe)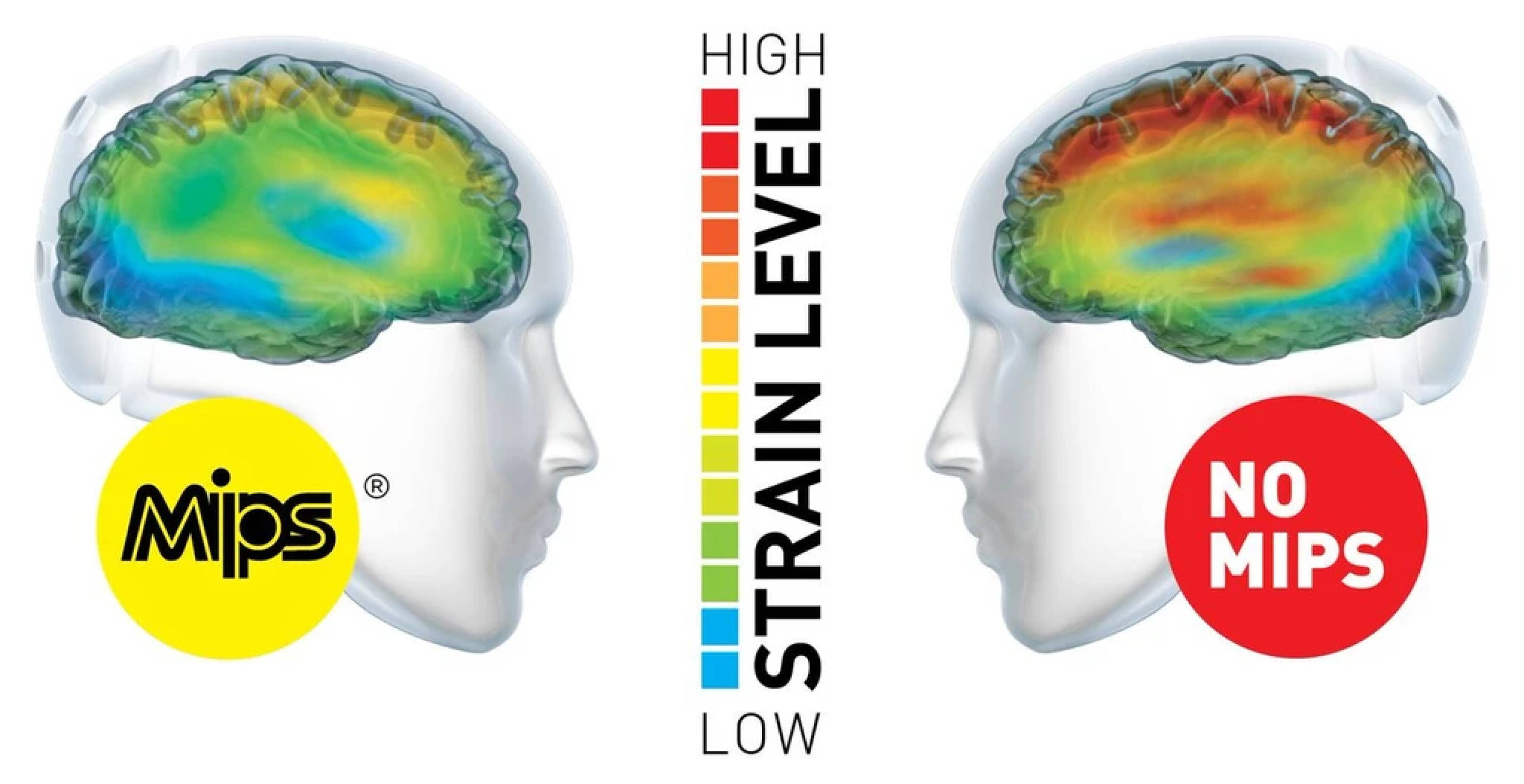 How much do I pay for shipping?

For the contiguous US, UK and some EU countries shipping your helmet is FREE! For other locations as well as accessories, shipping is calculated based on your location and product upon checkout.

When can I expect my helmet?

Generally we ask to allow 4 to 10 business days for your order to be delivered. It may take longer during peak seasons.
Once your order has been handed over to the carrier for delivery, you will receive a shipment notification email with tracking details. This enables you to track the progress of your order and get an estimated delivery date.


If you want to return or exchange anything you bought from us, NO PROBLEM! You have 30 days from the date of shipping to make sure what you ordered from Lumos is right for you.
Just note that any product you return needs to be in new condition and you'll have to cover return shipping costs.


Quality is very important for us at Lumos. Therefore we guarantee that an Ultra helmet purchased from us is in good condition and continues to work as expected under normal use, within the first year of your purchase. You can read more on our warranty information here.
Customer Reviews
09/16/2020
Tony D.
United States
My second helmet - its that great.
I know people can see me when I ride. I live on narrow hilly roads in Northern California, so visibility is important. Cars see my helmet and actually go around, rather than driving close by like they do with regular lights. I've had truck drivers thank me for having a light high up on my head, rather than just tail lights. They can actually see me. This is my second helmet for a different bike. It is awesome.
Awesome to hear, Tony! It's our passion to create a safer riding experience by making you more visible on the road. Thank you for choosing a Lumos helmet again and we hope you'll have many safe rides ahead!
09/15/2020
Jose M.
United States
cool
really nice always get compliments about my helmet,people keeps asking me where I got it.
That's great Jose, ride safe!
09/13/2020
marion p.
United States
Happy Rider
great helmet Great signaling Great safety device
GREAT to hear, Marion! We hope you'll have many safe rides ahead.
RH
09/04/2020
Robert H.
United States
Outstanding Product
This easy to fit helmet is comfortable and stable on my head without having to overly tighten the chin strap. There's lots of airflow to keep me cool. The LED lights are a BIG plus and increase my visibility to motorists tremendously. The charging system is easy to use and battery life is excellent. It even has turn signals, although it is recommended to continue to use hand signals since some motorists won't understand what the flashing lights on the helmet mean. Product pricing is in line with competitors but has more features and thus presents better value for the money. 5 stars! Ordering online was a breeze although color selection was limited when I purchased mine. Delivery was very fast.
Awesome Robert! Thanks for writing a review and we hope you'll have many safe rides ahead!
09/03/2020
Steve J.
United States
WI Kid
Great, solid helmet. Seems more people are looking at me as I ride - this really makes me feel safe. Love the turn signal - auto shuts off to. I was recommend this helmet by a ER doc friend who was impressed and has seen way too many accidents and highly recommended this. I'm glad I got it.
We're happy to have you as a Lumos helmet user, Steve. Ride safe!